Missoni
Missoni: Patterns and elegance
Missoni was founded in 1953 and became world famous with its colorful knit designs. Today, in addition to the typical bohemian looks, the brand also sells exclusive evening wear that conveys the elegant Italian way of life – "La Dolce Vita".
mehr lesen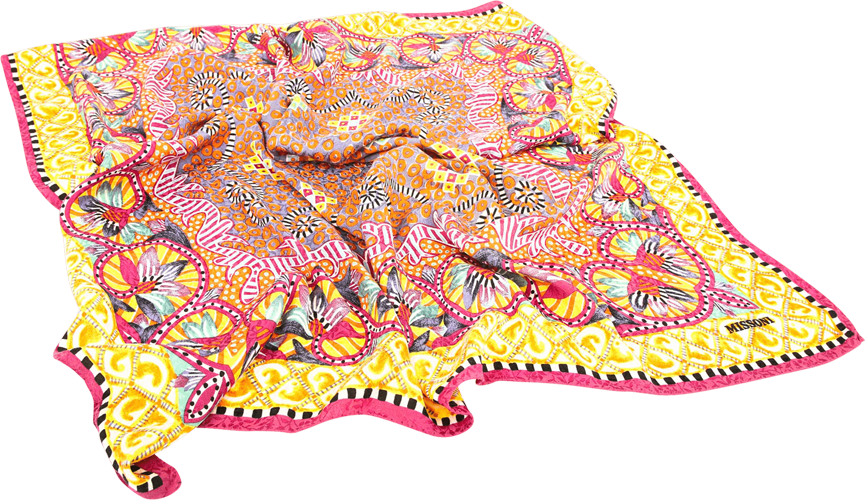 Missoni

It all started in 1953, when Ottavio Missoni (nicknamed "Tai") and his wife Rosita founded a knitting factory by the name of "Maglificio Jolly". Already in the 1940s, the interest of "Tai", who was also a successful athlete, turned to creating comfortable woolen sports suits. These were so well-received that the entire Italian Olympic team wore them.
The first fashion pieces from the knitwear factory also gained popularity on the retail market. The assortment ranged from shirts to blouses and dresses. In 1960, the zigzag pattern was developed and used in the first fashion collections by Missoni. At that time, no one knew that this zigzag pattern was not only about to become the trademark of the company, but also on its way to global fame.
The first products under the brand name of Missoni were sold in the Italian luxury department store chain "La Rinascente". In 1966, fashion lines were presented in Milan and gained wide popularity, especially after fashion shows in Paris and Florence.
In 1970, Missoni moved to the US - in the form of a shop-in-shop in Bloomingdale's, New York. With the lucky coincidence of good relations with the former Vogue boss Diana Vreeland, success was ensured.
The assortment of Missoni was rapidly expanded by matching accessories and perfumes. In the 1980s, decorative interior pieces, such as high-quality tapestries and fabrics for furniture, were added under the "Missoni Home" line. It was also in the 1980s that Missoni began to inspire the interior design of Fiat vehicles. In the following years, the popularity of the company had long outgrown the status of a simple knitwear factory – it was able to score with leather goods, perfumes, jewelry, watches and clothing in the luxury sector.
Since 1997, the Italian company has been in the hands of the children of the founding couple: Vittorio, Luca and Angela. In the coming years, swimwear and children's clothing were added to the product portfolio. In 2014, the former creative director of the fashion brand Moschino, Rossella Jardini, was employed as a consultant and provided a fresh breeze for the colorful, eclectic designs.
Today, Missoni has more than 30 stores worldwide, among others in large cities such as Lugano, Vienna and Munich. The colorful knitting patterns still dominate the style of the Italian fashion house, but were skillfully complemented by subtle designs. The brand equally appeals to fans of the casual knitwear bohemia, but also to lovers of Italian elegance.
No results were found for the filter!