Gucci
Gucci: Italian fashion by Guccio Gucci
The style of the 70s is one of the trademarks by the popular Italian brand of Guccio Gucci. Hardly any fashion label of today is style-wise similarly deeply rooted in the colorful 70s. Today, Gucci delights customers with Gucci handbags in bright colors, unusual accessories or wild patterns on the Gucci dresses. But that was not always the case: the first finished objects by Gucci appeared in a more minimalistic guise.
mehr lesen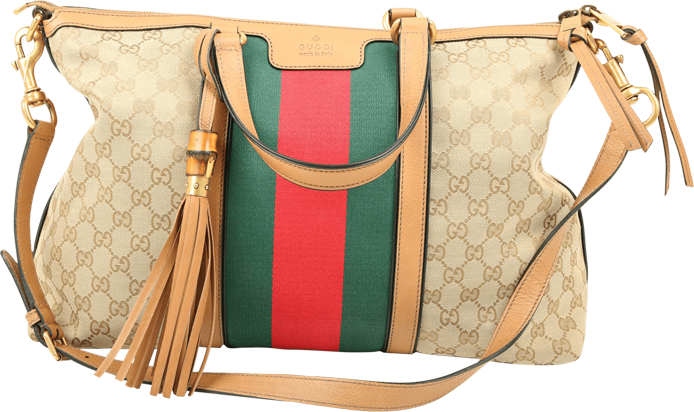 Gucci
Gucci has become cult: Even far beyond fashion, Gucci is known by everyone. The rise of Gucci began in 1921 in Florence: Guccio Gucci started his business with the production of leather goods and luggage. With resources running out in 1947, he used the remaining materials to design one of Gucci's signature Gucci handbags: The iconic Gucci Bamboo Bag was born - more by accident - and unexpectedly contributed to the success of Gucci in the bag business. The first Gucci handbags were primarily inspired by equestrian sports and featured subtle, classy designs.
IIn 1970, Gucci garments were added to the company's product range. In that year, the today-famous trademark logo was developed: The intertwined Gs go back to the initials of the founder Guccio Gucci. Famous stars of that time became aware of Gucci and enriched her wardrobe with exclusive pieces. For example, in the 1960s, Jackie Kennedy helped one of the Gucci handbags to the popular name "Jackie O". Grace Kelly, on the other hand, was often seen wearing a silk scarf decorated with a flower print that was designed just for her.
In the mid-1990s, Gucci experienced a resurgence thanks to new chief designer Tom Ford. Ever since, Gucci handbags, garments, perfumes, accessories and even jewelry and watches for men and women formed the product repertoire of the brand. Gucci established itself as one of the most expensive and at the same time most famous luxury fashion brands.
After Tom Ford, who was named "Designer of the Year" in 1996, Frida Giannini designed for Gucci. She was also awarded a prize: in 2009, she was named "International Designer of the Year" by the Japanese Fashion Editor's Club. Alessandro Michele followed in 2015 as chief designer of the Gucci brand. Gucci clothing is now regularly featured on the global catwalks and is famous for its floral and fancy prints, often reminiscent of the 1970s. Gucci has arrived at the top of the fashion world and is an indispensable part of the fashion industry.