Moschino
Moschino: A brand between art and fashion
Moschino is a fashion brand for lovers of colors, patterns and playful details. It is evident in each of the extraordinary pieces that the Italian designer behind the company did not only study art at first, but also primarily perceived himself as an artist. Franco Moschino come from a wealthy family background and knew luxury right from the start. With his striking, sometimes provocative creations he provided a counterpart to the classical world of fashion.
mehr lesen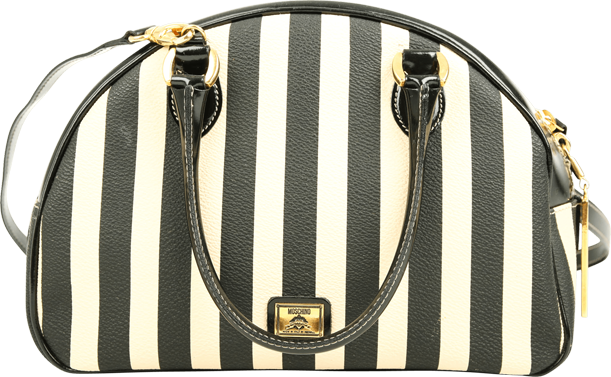 Moschino
At the beginning of his career, Franco Moschino drew designs for Gianni Versace. Even though this fashion label is also famous for unusual, colorful creations, the young and ambitious designer wanted nothing more than his own label. This goal was realized in 1983. His extravagant, innovative designs in addition to the ironic, sometimes even provocative statements behind the fashion pieces shook up the fashion industry. Simultaneously, they fostered his repute and even found favor with his critics.
In 1988, Moschino started opening boutiques, the first of which was located in Milan. Celebrities like Madonna, Palina Rojinski or Katy Perry love the brand, which is refreshingly different from other fashion houses.
Typical for Moschino are eye-catching prints, playful ruffles, bows or appliqués on the products. The collections always dominated by a main theme and are partly inspired by other, well-known brands. For example, there were Moschino collections with Bugs Bunny, the hero from Super Mario or even McDonald's. Other pieces by the Italian label featured street signs, lush gold chains or futuristic fashion in NASA style. Moschino is always a bit different, always a little unconventional, but always trendy. Chief designer Jeremy Scott himself is a prime example of the mix-and-match style: Among others, casual jogging pants are combined with extravagant tops. Or the iconic belt with the big letters of the brand made from gold or silver metal, which can be moved back and forth – and perfectly emphasize the waist.
Moschino is divided into three fashion lines: Boutique Moschino, Love Moschino and Cheap & Chic. Contrary to its name, the Cheap & Chic line features high-end clothing, while Love Moschino also targets more price sensitive customers. In addition to the distinctive clothing, the collections also include Moschino handbags. The bags are a perfect match for the colorful garments and are often very creative: handbags as fast food dishes, traffic icons, soda cans or hearts are still among the "more ordinary" range of models. Most Moschino handbags are a unique piece of art because of their shape. The brave dare to combine Moschino handbags with a piece from the fashion lines of Moschino. Otherwise, the bags also perfectly complement a plain, simple outfit.
No results were found for the filter!