Gucci
Italienische Mode von Guccio Gucci
Der Style der 70er Jahre gehört zu den Steckenpferden von Gucci, der beliebten italienischen Marke von Guccio Gucci. Kaum ein Modelabel der heutigen Zeit ist mit seinen Styles in den bunten 70ern ähnlich tief verwurzelt. Gucci punktet heute mit Gucci Handtaschen in knalligen Farben, ausgefallenen Accessoires wie Nerdbrillen oder wilden Mustern auf den Gucci-Kleidern. Doch das war nicht immer so: Die ersten gefertigten Objekte von Gucci erschienen in einem minimalistischeren Gewand.
mehr lesen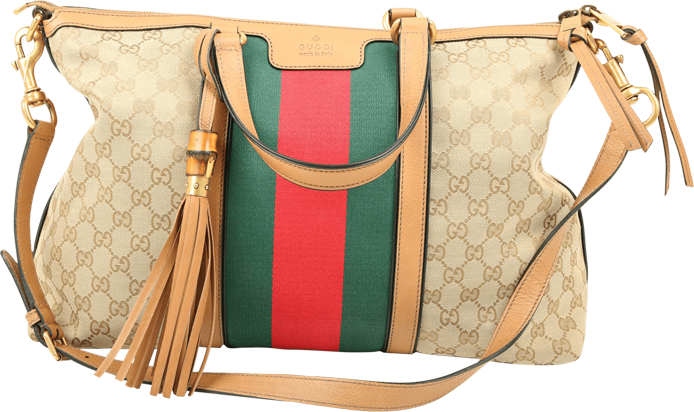 Gucci
Gucci ist Kult: Auch fernab der Modebranche ist Gucci für jeden ein Begriff. 1921 in Florenz gegründet, begann der Aufstieg von Guccio Gucci zur Weltmarke. Zunächst wurden kleine Brötchen gebacken: Guccio Gucci widmete sich der Herstellung von Lederwaren und Gepäck. Große Gucci Handtaschen und Koffer für die Reise zählten zum Sortiment. Weil die Ressourcen im Jahr 1947 für Gucci langsam knapp wurden, designte er mit den verbliebenen Materialien eine der noch heute für Gucci typischen Gucci Handtaschen. Die Gucci Bamboo Bag war geboren - mehr zufällig - und trug unerwartet zum Erfolg von Gucci im Taschengeschäft bei.
Inspiriert vom Pferdesport, waren die ersten Gucci Handtaschen im Vergleich zu heutigen Produkten von Gucci eher zurückhaltend. 1970 kamen zu den Gucci Handtaschen auch Gucci Kleidungsstücke hinzu und bereicherten das Sortiment des Unternehmens. Es wurde auch das bis heute gängige Logo geschaffen: Die ineinander verschlungenen G's gehen auf die Initialen des Gründers Guccio Gucci zurück. Berühmte Stars ihrer Zeit wurden auf Gucci aufmerksam und bereicherten ihre Garderobe mit exklusiven Stücken. So verhalf Jackie Kennedy in den 1960er Jahren beispielsweise einer der Gucci Handtaschen zum bis heute gängigen Namen "Jackie O". Grace Kelly durfte sich hingegen über einen Seidenschal freuen, der nur für sie entworfen wurde und mit einem Blütendruck verziert ist.
Mitte der 1990er Jahre erlebte die Marke Gucci durch den Designer Tom Ford einen neuerlichen Aufschwung und steigerte ihre Bekanntheit. Seitdem gehören neben Gucci Handtaschen und Kleidungsstücken auch Gucci Accessoires und Gucci Schmuck zur Produktpalette. Es gibt mittlerweile jeweils eine Damen- und eine Herrenkollektion, sowie Gucci Taschen, Schuhe, Parfums und elegante Uhren. Gucci etablierte sich als eine der teuersten und gleichzeitig bekanntesten Luxus-Modemarken.
Nach Tom Ford, der im Jahr 1996 als "Designer des Jahres" ausgezeichnet wurde, designte Frida Giannini für Gucci. Auch sie wurde mit einem Preis ausgezeichnet: 2009 wurde sie "International Designer of the Year" des japanischen Fashion Editor's Club. Alessandro Michele folgte im Jahr 2015 als Chefdesigner der Marke Gucci. Gucci Kleidung ist heute berühmt für florale und ausgefallene Prints, die oft an die 1970er Jahre erinnern und auf den Laufstegen dieser Welt großen Anklang finden. Trotzdem gilt die erste Gucci Handtasche nach wie vor als Kultobjekt und Markenzeichen der italienischen Marke. Gucci ist ganz oben in der Modewelt angekommen und dort nicht mehr wegzudenken - so viel ist sicher.